Saturday, June 24, 2023 - 10:00pm
to
Sunday, June 25, 2023 - 6:00am
Come join fellow radical robots, sickening cyborgs and forever-glowing glam-droids at San Francisco's premier Pink Saturday gathering. We can't wait to welcome you once again into a future-forward liminal space where queer family can convene without worry of persecution, and we can together plug into the love + light that connects us all.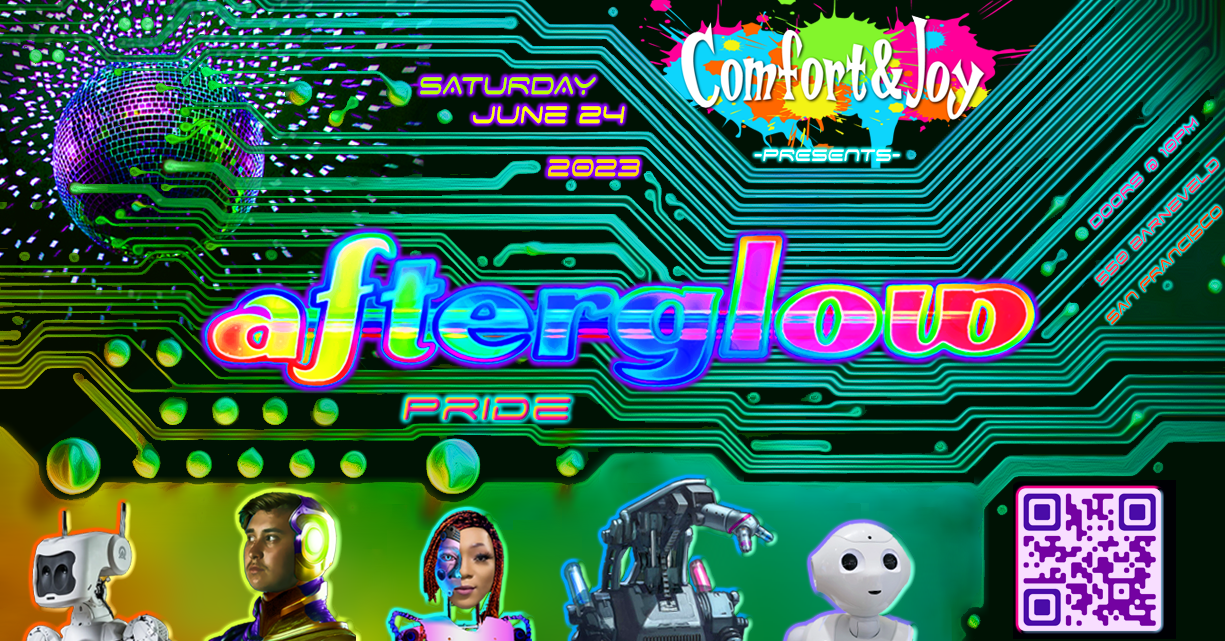 We'll be honoring this year's SF Pride theme "looking back and moving forward" by first holding space to affirm and uplift the struggle of the queers whose shoulders we stand on whenever we attend a nightlife event like Afterglow. From the first Liberation March down Polk St. and "gay-in" at Golden Gate Park in 1970, down the runways overtaken by Billy Bower's queer self-expression in the late 1970s, through the radically grounded happenings manifested in the ​​ACT-UP protest / rallies of the late '80's–early '90's, to the assertion that Black Trans Lives Matter a short 3 years ago, LGBTQ2+ history is written with the sweat, passion and tears of the queers who came before us.
We will be screening visual proof of queer cultural watershed moments throughout the night (many thanks to the GLBT Historical Society for their invaluable curation), allowing each and every human present to pause for a moment and send sweet love and warm thanks into the forever-changed spaces our predecessors left behind. Plug back in soon for more details on the ways in which we'll be honoring herstory…as well as announcements about which allied organization(s) will receive a portion of the profit from Afterglow Pride 2023.
Next, we invite you to join our joyful celebration of technology's innate ability to facilitate gender expression and sexual identity as a continuum, rather than an antiquated binary. We open our arms and embrace the gender bending cyber aesthetic, and invite all of the queer diaspora to join us for a community transmission to/from a technologically differentiated, hyper-diversified future!
* * * * * * *
Our DJs will be powering up the dance floor all night with their pulsing beats so you can gyrate your gizmos in euphoric bliss until your gears are fully greased - get ready for sets from DJ Tiny Tim, Homero Espinosa, David Harness, DJ Olga T and The SyntheTigers in the main room; Eddie House, Jeremy Rosebrook & Jimmy DePRE, and Ion The Prize in the side room; and DJ Tomcat, DJ Whisky Devil and DJ Xander upstairs. Make sure you plug into the main stage around 11:30 PM to download a live performance crafted by Beatrix LaHaine feat. Die Anna as host with performances by Phoebe Cakes, Juliano Wade and Mirraj…it's sure to fry your circuits (find bios for DJs + Performers below).
Comfort & Joy's very own Creative Director Chickpea will beep-boop-bump us into a funky-fabulous future in the Main Room: she's assembled a crew of neon robots and their fluorescent friends to illuminate the dancefloor as we celebrate at the center of the queer roboverse.
The Cuddle Space will be elevated for this evolution of Afterglow, occurring in the mezzanine space above the main dance floor: it will remain a mellow space plushly appointed to facilitate emotional intimacy and caring touch. If you're going for something more anima-tronic, find your way to the Upstairs Back Room to access a world of visceral delight.
Plan your retro future glam game for Afterglow! Robo-inspiration Lewk Book available here: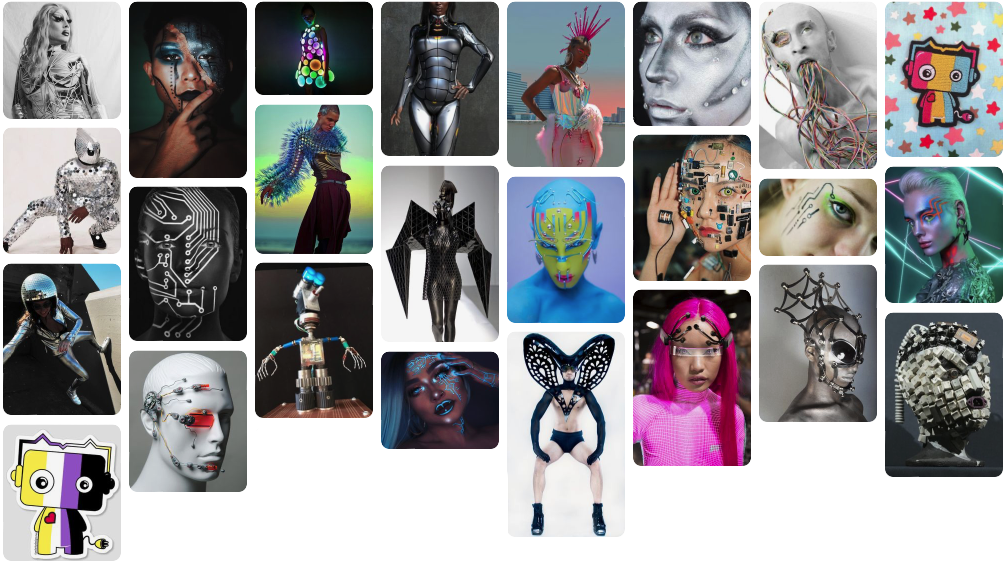 >>SPECIAL NOTE ABOUT CONSENT & COMMUNICATION<<
Comfort & Joy is here for you! If you ever need support, see someone who may or have other concerns at our parties, please find one of our 'vibe-raters' (purple glow collars) or a house manager (pink glow collars).
We want everyone to always feel respected, adventurous and safe at our events. Consent makes that possible. Please communicate and check in before touching. If you aren't feeling it, a polite 'no thank you' is kind. 'No' is also a complete sentence. If you receive 'no' in any form, please be gracious and respect it. Ultimately, we request that we ask each other for permission rather than forgiveness, when it comes to consent.
* * * * * * *
Perks available to all attendees include face + body painting, tea service, miso station, waves of fresh late-night fruit and professional photography in action or at the photobooth.
Full coat & clothing check is available to help you shed your street-hardened shell and free your inner glam-bot. *Sadly, items in coat check are not under constant supervision, and we cannot assume liability for items lost, stolen or damaged.* Help us foster unbridled immediacy by thinking twice before bringing your new smart accessory, designer jewelry or other high-value items to the club, beautiful!
125x Door Tickets will go on sale at 10pm on 6/24/2023 for $125 each. Please note Space 550 is a 21+ with ID venue.
* * * * * * *
Show up in time to plug into our Queericulum for the evening: Honoring The Ancestors By Getting Our Sex Out Of The Closet, beginning at 10:30pm, by Trixie LaMonte (bio below):
Our queer and trans ancestors often had to hide their true identity in order to survive. They paved the way with their bold actions and standing up for justice so that today we can be the people we are with more liberation and freedom. We know the struggle is not over and we also know we have far more spaces and places to be out than ever before. Yet still there are pieces of our own desire we do not know. So come join this workshop to explore the aspects of your desire that you still hide. Perhaps we still hide because of shame instilled in us by an oppressive society. Perhaps we hide because we are still yearning to figure out our own bodies and what we want and long for. Perhaps we hide because of the trauma of our ancestors and the trauma we have faced as well. This will be an opportunity to move through and overcome shame, trauma, and negativity. This will be an opportunity to welcome all parts of yourself to this party. We will learn how to love ourselves, find pride in our desires, and explore new parts of ourselves all while having fun and building community!
* * * * * * *
Afterglow volunteers get a chance to meet the movers and makers that dream up the Glow as well as a complimentary ticket to the event; in addition setup/strike volunteers a tasty free lunch and all staff + volunteers get line-skipping priority entry at the door. We depend on over two hundred pairs of helping hands to make Afterglow happen each Pride season...sign up to Volunteer here!
125x Door Tickets will go on sale at 10pm on 6/24/2023 for $125 each. Please note Space 550 is a 21+ with ID venue.
Afterglow is a luxurious, one-of-a-kind San Francisco celebration thrown by Comfort & Joy, a 501(c)(3) volunteer-run not-for-profit corporation. Proceeds enable us to host more fabulous parties, create our legendary village in the queerborhood at Burning Man, provide community art grants within and outside of San Francisco, and offer free or discounted events supporting inclusion of all queer, creative and expressive community members here in the SF Bay Area and from around the world.
Comfort & Joy offers free/discounted Affinity tickets for queer, creative and expressive community members of all racial backgrounds, gender expressions, ethnicities and sexualities if the cost of our presale tickets would prevent them from attending otherwise. The Affinity program is an effort to counteract the systemic racism/discrimination faced by BIPOC, Latinx, Asian, Indigenous, Hawaiian / Pacific Islander, Trans and Nonbinary community members as well as many other categories of human we haven't learned to appreciate just yet — we hope that radical inclusion in our events is a first step toward holding space for all in the queer community. If you can't afford a presale ticket but want to be in attendance, apply for an Affinity ticket here.